Maximize Small Business Saturday®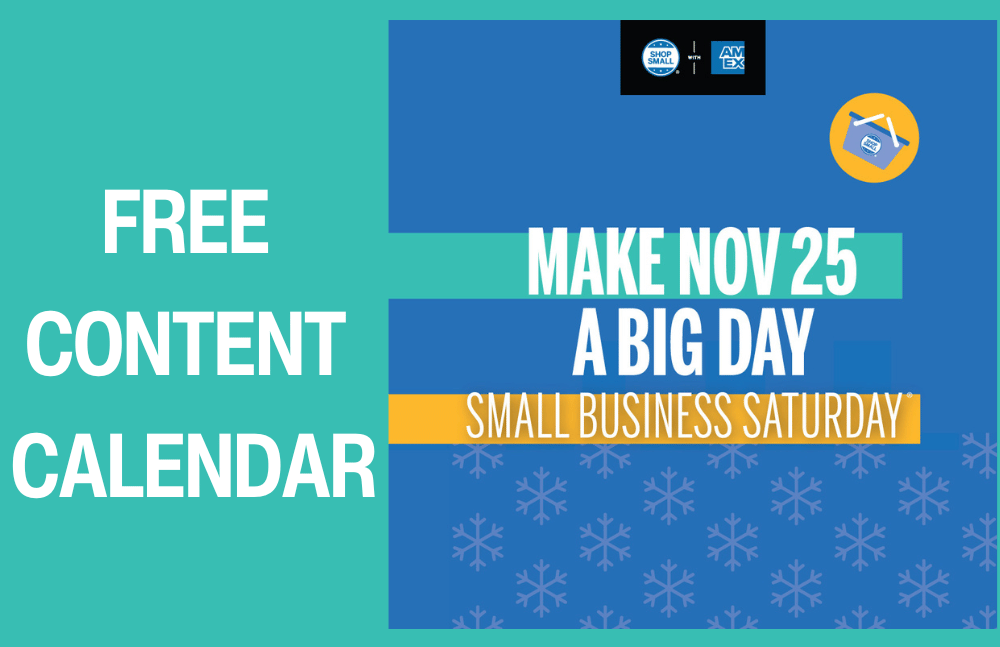 Make a Plan
Small Business Saturday® is a nationwide effort designed to support small businesses and one of the largest shopping holidays of the year. This is not a run-of-the-mill event or day to mark on the calendar. You need to capitalize on the investment that American Express, the Small Business Administration (SBA), and nationwide small business supporters are making. Your customers are probably already looking forward to it, and wondering what their favorite businesses are going to offer. Don't leave money on the table for your business!
Whether you are a traditional brick-and-mortar location, an online-only presence, or a combination of both, you need to plan an event for your customers. Supporters spent $17.9 Billion in 2022, that's worth celebrating.
Will you decorate? Hire a DJ? Provide refreshments? Free samples? Discounts on things that you never discount? Gift with Purchase? A contest or prize drawing? Decide what you will feature, ensure you have all the details, and take some kick-ass photos and short video clips to share.
Market Your Participation
Look for ways that you can spread the word about your event. Event marketing is important to the success of your Small Business Saturday shindig.
Contact your local chamber of commerce, economic development committee, or merchants' association. They may already be planning a local push to support small businesses in your area.
Create your own hyperlocal merchant collective with other business owners in a small radius. Share the responsibilities of planning and multiply your returns. Consider creating a passport where customers who collect a stamp or receipt from all participating businesses get a special prize or go into a prize drawing.
Inquire about the communications for local neighborhoods. Often homeowners associations have a website, newsletter, and email lists where they promote events to residents. Many groups are also on social media in Facebook groups, Reddit forums, the Nextdoor app, and similar. Ask your customers where they get news for their neighborhood events.
Make a Facebook event from your business page or personal page that is listed as public. Tip: add multiple event hosts from your personal profile, your business page, and even group admins. Each host can invite different sets of contacts.
Marketing to your existing email list, being sure to include links to the Facebook event page and your social media channels, as well as mentioning any specials, entertainment, or partnerships that you've planned.
Reach out to local broadcast media, newspapers, or local influencers and offer to be a part of their coverage.
Join the ASOM Marketing VIP community on Facebook to get more ideas and brainstorm with other business owners.
Minimize Risk
Ensure that you have the right levels of inventory to satisfy demands.
Consider pre-selling and having customers pick up in-store on Saturday.
Don't wait until the last minute to get supplies.
Staff Up! It's better to have too many helpers than not enough. Contact local high schools and universities to find resources. You may be able to provide community service or internship credits for students.
Maximize Impact
Have a great selfie backdrop and a sign inviting visitors to share their pictures, tag your business, and/or check-in at your location. I will share some examples and ideas for easy and/or inexpensive selfie walls in the Facebook group. You can also visit my

Pinterest board

for Small Business Saturday®
If you are doing any events or specials in December, ensure you have printed information to enclose in packages and hand out to visitors.
Capture contact information, thank them for their support, and invite them to the next event.
Don't forget to download the Content Calendar that I've provided to market your Small Business Saturday® participation on your social media channels.
Need help planning a strategy? Schedule a complimentary consultation with ASOM Marketing.